ARTS AND CULTURE
Communications Training for MacArthur/Driehaus Arts and Culture Grantees is Now Underway
May, 2017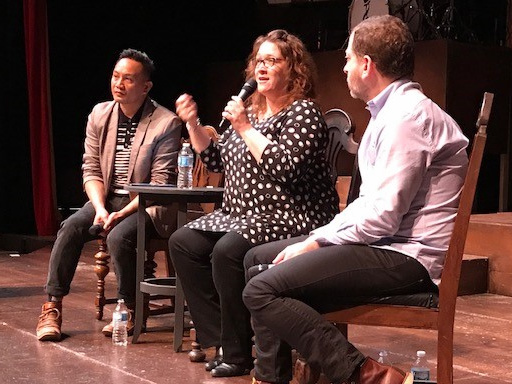 For the third year in a row, the Driehaus Foundation is offering free targeted professional development training through our partnership with the MacArthur Foundation. These trainings are a direct outgrowth of the Listening Sessions our program staff conducted with grantees of the MacArthur Funds for Arts and Culture at The Richard H. Driehaus Foundation in the winter of 2014 - 15.  (Click here to read "Constructive Conversations," our report on the Listening Sessions.)
At the Listening Sessions we asked our grantees, "What, other than providing more funding, can the Foundation do to support your organizations?" Overwhelmingly, they said they needed more training and support in three key areas: social media, board development, and marketing.
In 2015, in partnership with Public Narrative, we provided social media training for 44 grantee organizations. In 2016, we tapped the extensive experience of the Arts & Business Council to provide board development training for 36 organizations.
This year, 39 grantee organizations are participating in ArC (short for Arts Communications), a multi-platform training developed with LimeRed Studio, a user-experience design agency that works with social innovators to make things work better. The training kicked-off on Wednesday, May 3 at the Black Ensemble Theater (also home to the African American Arts Alliance, a Mac/Driehaus grantee). 70 representatives (board members as well as staff) from 36 organizations were in attendance. Demetrio Cardona-Maguigad, project lead from LimeRed Studio, outlined the upcoming workshops and led a rich and fascinating conversation with Lara Goetsch, the director of marketing and communications at TimeLine Theatre Company, and Andy Fenchel, executive director of Lampo. These two award-winning communications professionals discussed their approaches to audience development, the changing media environment, and how to do the most with the resources you have (and not beat yourself up for not doing more).
In the coming weeks, LimeRed Studio will facilitate workshops in Brand Optimization, Marketing Communications Research and Planning, and Communications Management. Sessions will be held at three other grantee organizations: Pride Arts Center in Buena Park; the National Museum of Puerto Rican Arts and Culture in Humboldt Park; and High Concept Laboratories at Mana Contemporary in Pilsen. LimeRed Studio will also moderate a closed online community where participants can ask questions of their peers and share success stories and, throughout the summer, meet with each organization for one-on-one coaching.