ARTS AND CULTURE
Driehaus Foundation Awards Over $1.2 Million to MacArthur-Driehaus Grantees
October, 2017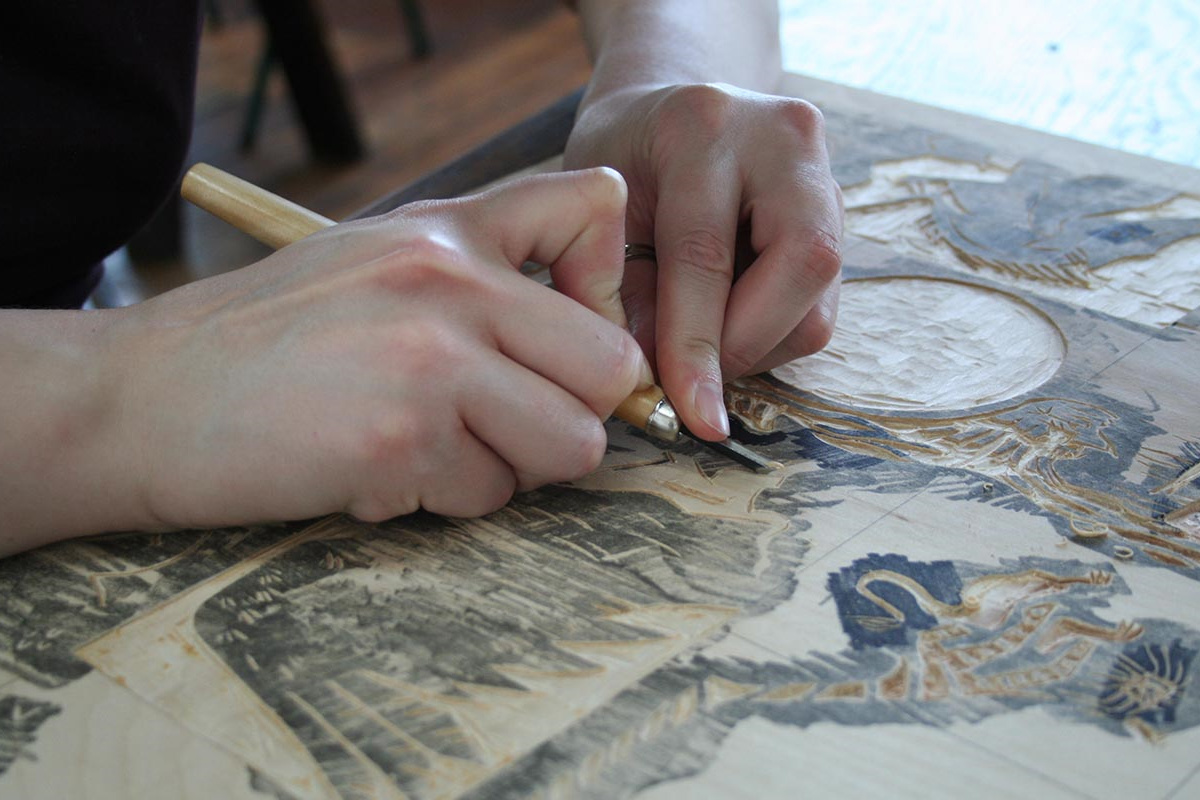 We are pleased to announce grants totaling $1,214,000 over three years to 51 Chicago arts and culture organizations. These grants are made in partnership with The John D. and Catherine T. MacArthur Foundation through the MacArthur Funds for Arts and Culture at the Richard H. Driehaus Foundation. MacArthur-Driehaus grants provide general operating support to Chicago arts and culture organizations with annual budgets of $500,000 or less. Grant recipients include music, theater, and dance companies, as well as visual arts, film/audio companies, museums, and literary arts organizations. A complete list of grant recipients and links to their organizations are below.
Congratulations to the 2017 MacArthur-Driehaus Arts and Culture grantees!
$3,000
6018NORTH connects neighbors through artistic encounters. As part of the Chicago Architecture Biennial, 6018NORTH will display the Chapuisat Brothers' installation called "In Wood We Trust."
$13,000                
archi-treasures creates public art through a participatory process including murals, outdoor installations, benches, walkways, community gardens, and shared outdoor spaces. 6-8 projects are completed each year.
Artists' Cooperative Residency and Exhibitions Project (ACRE)
$8,000
ACRE is devoted to providing resources to emerging artists and nurturing a diverse community of cultural producers. Each year, ACRE partners with up to ten Chicago galleries to host exhibitions of their resident artists' work.
$18,000 over two years
Bach Week performs three concerts (two in Evanston, one in Chicago) in a festival format over a two-week period.
$5,000  
Bella Voce is a choral ensemble that brings to life a broad range of choral music, rooted in historical and cultural context. In December, they will present their annual Messiah concert and in the spring will present a program featuring Scottish polyphony and folk music.
$40,000 over two years
Blair Thomas & Company promotes the advancement of puppetry through original productions and the biennial Chicago International Puppet Theater Festival.
$10,000 over two years
Chicago Composers Orchestra is dedicated to the performance of orchestral music by living composers. In 2017-18, CCO will be presented by the Latino Music Festival and present a concert of jazz, electronics, and new orchestral music.
$5,000
Chicago Dance History Project investigates, preserves, and presents the histories of theatrical dance in Chicago. The archive will contain original and collected research that examines how Chicago has shaped dance — and dance has shaped Chicago — throughout the 20th century and into the present.
$40,000 over two years
Chicago Dancemakers Forum "elevates the field of dance" by providing a comprehensive support system for choreographers. The Lab Artists program supports choreographers with stipends, mentorship, and program support while they research, develop, and present new work.
$40,000 over two years
Chicago Dramatists nurtures playwrights with space, resources, and collaborators to realize new works and thrive as artists. They provide opportunities to 24 resident playwrights and 12 Fellows. Public programming includes classes and readings of works in progress.
$30,000 over two years
The Chicago Jazz Orchestra performs music by master composers such as Duke Ellington, Count Basie, and Dizzy Gillespie. Because CJO transcribes rare recordings, audiences experience live performances as they have not been heard since they were originally performed.
$24,000 over two years
City Lit produces a four-play season and festival of short premiere adaptations. This season includes Synge's "Deirdre of the Sorrows," MacLeish's "J.B." and Nicholas Rudall's new translation of Aeschylus' "Prometheus Bound."
Collaborative Arts Institute of Chicago  
$16,000 over two years
Collaborative Arts Institute of Chicago advances the study and performance of art song and vocal chamber music. In 2017-18, programs include the Collaborative Works Festival, Vocal Chamber Music Fellowship, annual Vocal Workshop, and its signature Lieder Lounge series.
$3,000  
Comfort Station is a cultural arts hub in Logan Square with free programing including art exhibits, music, movies, and lectures that take place in a historic building located on Logan Square's Boulevard.
Community Film Workshop of Chicago 
$20,000 over two years
The Community Film Workshop of Chicago provides access for the development of digital media artists of color through programs that foster community building, media production, and presentation.
$40,000 over two years
Congo Square emphasizes African American cultural traditions while taking inspiration from the work of Pulitzer Prize-winning playwright August Wilson. Congo Square presents 2-3 main stage productions each season and a new script development series that supports emerging playwrights of color.
$40,000 over two years
The mission of Deeply Rooted Dance is to "re-imagine and diversify the aesthetics of contemporary dance by bringing together modern, classical, and African-American traditions." Programs include main stage productions, touring shows, an Emerging Choreographers Showcase, and Dance Education Programs.
$39,000 over three years
Ensemble Dal Niente is a contemporary music collective that performs new music in ways that redefine the listening experience and advance the art form. 2017-18 season highlights include the release of their new album, "Assemblage," at the Art Institute.
$39,000 over three years
Filter Photo supports the photographic communities of Chicago, highlighting the city as a national center of the photographic community. Each fall they produce the Filter Photo Festival and host 8-12 exhibitions in their West Town gallery.
$34,000 over two years
Free Street presents 6-8 productions of original devised work each year. Ensemble members receive conservatory-level training and programming takes place at Pulaski Park as well as several site-specific performances in Park District locations.
Fulcrum Point New Music Project           
$20,000                
Fulcrum Point presents multi-media performances and educational programs, as well as commissioning and recording innovative works. The ensemble is currently developing a new work with the Mexican Centre for Music and the Sonic Arts.
$5,000  
Full Spectrum Features is committed to increasing diversity in the media arts by producing, exhibiting, and supporting the work of women, LGBTQ, and minority filmmakers, utilizing the power of cinema to foster understanding.
$10,000                
Global Girls presents stories written and performed by people from southside neighborhoods. In 2018, original works address parenting and technology and the black migration to the suburbs.
$7,000  
Global Pungmul Institute is dedicated to traditional Korean cultural and performing arts, especially Korean drumming called pungmul. 2017-18 highlights include the Rhythm Connections Concert Series at Elastic Arts and Ganz Hall at Roosevelt University.
$60,000 over three years
Hedwig Dances is known for collaborations with other artists. This season Hedwig will pilot pop-up dance programs at St. Augustine College, and explore the principles of the Bauhaus modernist art movement.
$22,000 over two years
HotHouse produces musical and multi-disciplinary events that foster the international exchange of ideas and methods. This year's highlights include the Chicago-Guantanamo Blues Exchange and the 3rd annual Old and New Dreams Festival.
Intuit: The Center for Intuitive and Outsider Art               
$25,000                
Intuit is a museum of outsider art, the work of artists with little influence from the mainstream art world who are motivated to create by their unique vision. 2017 highlights the work of Chicago's Henry Darger.
Kalapriya, Center for Indian Performing Arts      
$10,000                
Kalapriya seeks to advance excellence in Indian performing arts, engage new audiences, and promote cross-cultural understanding and a global interchange of ideas. 2017-18 highlights include "Ahimsa," a blend of traditional storytelling, music, and dance to address issues of violence in Chicago.
$18,000 over two years
KV265's multi-media performances communicate science through art, through films accompanied by live classical music. Upcoming 2017-18 concerts include performances with the Chicago Youth Symphony Orchestra.
$39,000 over three years
LATITUDE maintains a digital lab with high-end scanning and printing equipment, operates an artist in residence program, and features monthly talks and lectures that are open to the public.
$14,000 over two years
Live the Spirit conducts a year-round jazz residency and conducts music programing for youth. The signature event is the annual Englewood Jazz Festival at the Hamilton Park Cultural Center.
Mandala South Asian Performing Arts  
$6,000  
Mandala connects audiences with the performing arts traditions of South Asia. This season includes Ustad Amjad Ali Khan with the Chicago Symphony Orchestra; "Unwinding," a deconstruction of classical Indian dance; and performances celebrating Diwali at the Art Institute.
$20,000                
Muntu Dance preserves the African aesthetic through education and the presentation of dance, music and folklore. This year, Muntu celebrates its 45th anniversary with new programming and a special gala to honor past leaders.
National Cambodian Heritage Museum & Killing Fields Memorial
$28,000 over two years
The mission of the National Cambodian Heritage Museum & Killing Fields Memorial is to remember the lives that were lost to the Khmer Rouge through exhibition, preservation, and interpretation of its collections, community engagement, workshops, performances, artists talks, and education.
National Museum of Puerto Rican Arts & Culture            
$25,000                
NMPAC is devoted to the promotion of Puerto Rican arts and culture. Free programming includes exhibitions, tours, an annual Barrio Art Fest, a Lecture Series, a "Park Voyagers" program for youth, and Art Classes.
$20,000                
The Neo-Futurists are a collective of writer-performers who create theater that is a fusion of sport, poetry, living-newspaper, interactive performances, and work embracing those unmoved by conventional theater. This year they will write their 10,000th play as a collective.
$30,000 over three years
The Newberry Consort creates accessible and historically informed performances of Medieval, Renaissance, and Baroque music. The 2017-2018 season features performances at the Newberry Library, University of Chicago, and Northwestern University.
$10,000 over two years
The Paper Machete is a "live magazine" utilizing Chicago's comics, writers, musicians and artists to engage its audience in humorous, provocative conversations about current affairs and cultural issues. The Paper Machete performs weekly at the Green Mill.
$14,000 over two years
Pivot Arts produces multidisciplinary performances on Chicago's far north side throughout the year, culminating in an annual multi-arts festival. This fall, they will present "Extreme Vetting," a work focused on the immigrant experience.
$6,000 over two years
The Poetry Forum/RHINO publishes an annual journal of poetry, flash fiction, and translations. They host free Poetry Forum workshops and a monthly poetry reading series.
$30,000 over two years
Pride Films and Plays creates diverse new work with LGBTQ characters and themes. The organization will work to bring its new Pride Arts Center in Buena Park to its fullest potential.
$45,000 over three years
ShawChicago presents the plays of George Bernard Shaw and his contemporaries in concert readings. This season includes Shaw's "The Devil's Disciple"; "Jeeves in Bloom," from a story from P.G. Wodehouse; Noel Coward's "Hay Fever"; and "An Evening with Langston Hughes."
$32,000 over two years
Sones de México is a folk music organization specializing in Mexican 'son,' including the regional styles of huapango, gustos, chilenas, and son jarocho. In 2018, they will collaborate with Billy Branch to create "Mexican Son meets the Chicago Blues."
South Side Community Art Center          
$40,000 over two years
SSCAC "preserves, conserves, and promotes the legacy and future of African American art and artists while educating the community on the value of art and culture" through exhibitions, classes, and performances by African American artists.
$3,000
South Side Projections presents films at locations across Chicago's south side to foster conversation about social and political issues. The organization will develop a new screening series and bolster its children's programming.
$48,000 over three years
Spektral Quartet honors and expands the string quartet repertoire, connecting intimately with audiences through concert experiences that are open, charismatic, and innovative. This year they present the work of Arnold Schoenberg and expand partnerships with Constellation and the Rebuild Foundation.
$36,000 over two years
Spudnik Press provides facilities and services for artists to create and exhibit their original artwork. It provides education in printmaking practices by uniting professional artists with a diverse community of emerging artists, established artists, youth, and adults.
$30,000 over two years
Strawdog is committed to ensemble acting and an immersive design approach. Its 28-member ensemble presents a combination of new plays and reimagined classics. Upcoming work includes Barbecue (at Steppenwolf's 1700) and two shows at its new theater space in North Center.
$40,000 over two years
Threewalls fosters contemporary art practices that respond to lived experiences, encouraging connections beyond art. Programs include RaD Lab for artists and their communities; In-Session, a performance/reading group; and Breaking Bread, where people of diverse backgrounds share a meal and ideas.
Ukrainian Institute of Modern Art           
$51,000 over three years
The Ukrainian Institute of Modern Art promotes contemporary art as a shared expression of the Ukrainian and American experience. Upcoming exhibitions include "…and A is for Artist," an exhibition of artists with neurodevelopmental disabilities and "LIONS: The Founding Years of UIMA in Chicago."
$3,000 VGA provides a public forum for visibility, understanding and critique of video games through exhibition, study, and sale. In 2017, VGA opened a new exhibit space in Wicker Park.