Logo Use
The Driehaus Foundation is proud to be affiliated with its grantees and encourages the use of the Foundation logo on grantee promotional materials to highlight the Foundation's support. 
Only grantees of the Foundation are authorized to use these logos without prior written permission. This includes program partners.
GRANTEES OF THE DRIEHAUS FOUNDATION
*This excludes MacArthur-Driehaus grantees.
Grantees in the Built Environment, Arts and Culture, Investigative Journalism, and Economic Opportunity for the Working Poor portfolios should use the logo below.
Please note:
When displaying the logo digitally, please link the logo to the Foundation's website.
Consult the Foundation regarding any nontraditional use of the logo.
GRANTEES OF THE MACARTHUR FUNDS FOR CULTURE, EQUITY, AND THE ARTS AT THE RICHARD H. DRIEHAUS FOUNDATION
MacArthur-Driehaus grantees should use both the Driehaus Foundation and the MacArthur Foundation logos together as per the examples below.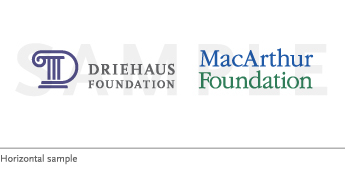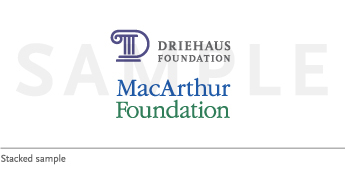 Please note:
Do not decrease the ratio of space between the Driehaus and MacArthur logos from what is shown in the example.
When possible, use the credit line "Supported by The MacArthur Funds for Culture, Equity, and the Arts at the Richard H. Driehaus Foundation" near the logos.
Link each logo to the respective Foundation's website when using digitally.
Consult the Driehaus Foundation regarding any nontraditional use of the logos.